Establishment of the Armenian state
08.05.2015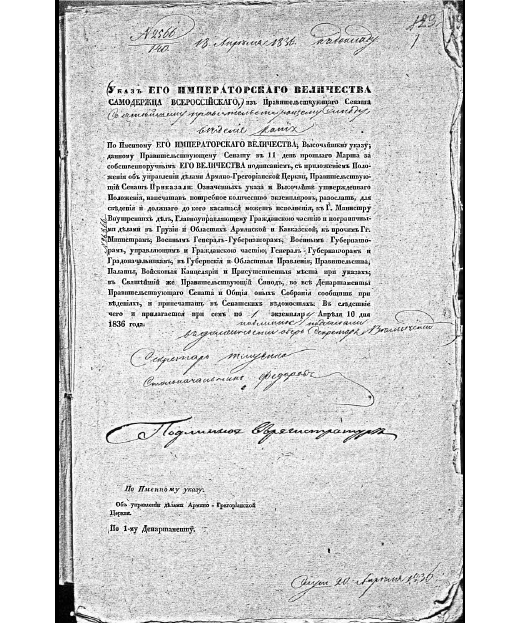 Chronology
October 12, 1813 – Gulustan treaty was signed between Russia and Iran. According to the treaty Shamshaddil, Loru-Pembek and Shorayel provinces, Ganja, Karabakh, Shaki, Shirvan, Baku, Guba, Darband, and Talysh khanates and Daghestan were included to the territory of Russia.

June 26, 1827 – Russia occupied Nakhchivan town
September 20, 1827 – Russia occupied Sardarabad castle
October 1, 1827 – Russia occupied Yerevan castle. Commander of Special Caucasian corps General I.F.Paskevich was awarded with the title of "Count of Yerevan" for his contribution to the occupation of Yerevan.
End of 1827 – beginning of 1828 – Russian armies occupied Tabriz, Khoy, Urmia, Salmas and Ardabil towns of the Southern Azerbaijan.
February 10, 1828 – Russian-Iranian war (1826-1828) ended with the treaty, which was signed in Turkmanchay village situated on the Tabriz-Tehran road. According to this treaty, Yerevan and Nakhcivan khanates were completely included to the territory of Russia.
March 20 – Nicolas I approved Turkmanchay treaty
March 21, 1828 – decree on the establishment of the Armenian state was issued. The decree says: "We issue an order to call Yerevan and Nakhcivan khanates, which were the parts of Iran, "Armenian region" on the base of the treaty signed with Iran, and to include them to our title. Supreme senate will get necessary decrees on the structure and administration of that region."
1840 – Armenian region was dissolved. Instead of the region Yerevan district was formed and it was included to the Georgian-Imeretin governorate.
1849 – Yerevan governorate was formed, which was consisted of Yerevan, Alexandropoul, Nakhchivan, Ordubad and Novo-Bayazid (New Bayazid) districts and this structure remained stable until 1917.
November, 1917 – Armenians expanded scale of the massacres after Russia withdrew from the Eastern Anatolia and gave their military equipments to Armenian commanders as a result of the Russian revolution.
1917 – Although Armenian generals solicit on behalf of the High Command for forming separate Armenian armed forces within the Caucasian army, Ministry of Defense denied it.
October 23, 1917 – Two Armenian rifle brigade were established with the order of the Commander in Chief of Kars front. Later those brigades formed an essential part of the army of Dashnak government.
February, 1918 – Turkish troops counter attacked and eliminated Armenian troops from Eastern Anatolia.
March, 1918 – Armenian armed forces destroyed 32 villages of Yerevan district, 84 villages of Echmedzin district, 7 villages of Novo-Bayazid district and 75 villages of Surmali district – overall 198 villages of Yerevan governorate were destroyed. 135 hundreds of people were subjected to genocide in these districts.
May, 1918 – Although three states – Georgia, Azerbaijan, and Armenia announced their independence in Transcaucasia, borders were still undetermined.
1918 – Armenian armed forces destroyed 229 residences in Baku governorate ( as well as, 58 in Shamakhi, 112 in Guba districts), 272 residences in Ganja governorate (115 in Zangazur, 157 in Karabakh), 211 residences in Yerevan governorate ( 32 in Yerevan district, 7 in Novo-Bayazid, 75 in Surmali, and 84 in Echmiadzin), and 82 residences in Kars region, killed thousands of people and drove them out from native lands.
May, 1918 – Capital of the Armenian state, which was created on the traditional Azerbaijani lands, in the territory of Yerevan governorate, was not determined.
May 29, 1918 – Azerbaijani government announced that it compromised Yerevan as the capital in order to put an end to the ongoing national conflicts.