Holocaust Memorial Day: 70 years since Auschwitz liberation, these are the stories of survivors
01.29.2016
The numbers have the power to shock, but forget the individual. As survivors visit Auschwitz, they remind us of all that was lost, and why we must combat the "hatred" spreading through Europe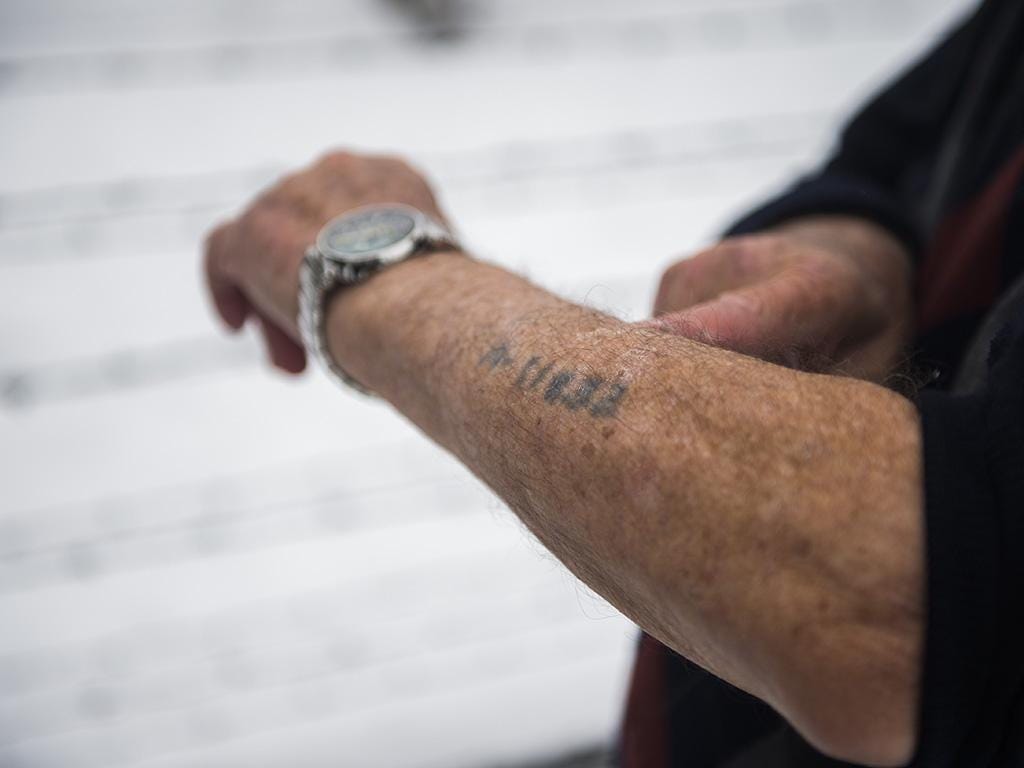 US survivor Jack Rosenthal shows his prisoner number tattooed on his arm as he visits the former Auschwitz concentration camp in Oswiecim on January 26, 2016
"Suddenly we were woken and the shouting started. It was night, the light beaming down on us and the orders, 'move here', 'move there': it was just terror."
Susan Pollack, then 14, was ordered into line, standing with her elder brother and mother, under the harsh lights of Auschwitz in May, 1944. Born in 1930, a Hungarian Jew, she spent the next seven weeks in Auschwitz before she was forcibly marched to Bergen-Belsen and eventually liberated by the arrival of British troops on 15th April 1945.
Today, she is among roughly 100 survivors who have chosen to gather at the Death Gate of Auschwitz II-Birkenau on the 70th anniversary of the camp's liberation to remember those who died.
Auschwitz, unique among the Nazi's camps, is often spoken in numbers: 1.1 million died. The Jews that were murdered consisted of 438,000 Hungarians, 300,000 Polish; 69,114 French; 60,085 from the Netherlands; 55,000 Greeks; 46,099 Czechoslovakians and Moravians, 26,661 Slovakians; 24,904 Belgians; 23,000 Austrians and Germans; 10,000 Yugoslavians and 7,422 Italians. There were 70,000 Polish political prisoners, an estimated 20,000 gypsies and ten thousand Soviet prisoners killed.
These numbers hold power but forget the individual, individuals such as the survivors gathered in a Krakow hotel last night. In the melee elderly men and women picked their way through the crowd, as cameramen and reporters and family members jostled around them.
It was a strange atmosphere, neither happy or sad but charged with the memories of the gathered - and lost - men, women and children.
Mrs Pollack, who was moved to Sweden after the war before relocating to Canada where she met and married a fellow survivor, finally settling in 1962 in London, remembers those first moments following her arrival in the camp.
"It was just the quickness, the way they identified and the fear, the fear that deprived anyone's mind of any thoughts," she told The Independent.
"It was like being placed in some freezing water when you can't move and you can't do anything because you must not speak, you must not act, you must not respond. We were just dazed. That's what they had done to us."
A Hungarian prisoner, who had been in the camp for some time, whispered to her, telling her to lie and pretend she was 15 - the cut-off age. That action saved her from selection for the gas chambers and instead she was used as slave labour and sent to another camp, Gubben, in Germany.
She later survived the freezing death march in winter to Belsen-Bergen and was liberated by the arrival of British troops. "It wasn't a big jubilant day because I didn't have any energy by then. I couldn't even walk."
Although she and her brother survived they lost over 50 members of her family. "I think that the luck was that the British came on the 15th and not on the 16th of April," she said.
Ziggy, short for Zgymunt, Shipper says it was "pure luck" he made it through the Łódz Ghetto, Auschwitz, a camp in Danzig, and a death march before finally British troops appeared in the German port of Neustadt.
Born in Łódz, Poland, in 1930, he was cared for by his paternal grandparents after his parents' divorce. He remembers his father standing over his bed before he disappeared shortly before the arrival of the Germans. It was the last time he saw him.
"The day they came into our city everything changed," he toldThe Independent. He, his grandfather and grandmother were moved into the Łódz ghetto. His grandfather - already ill - died just weeks after their arrival.
"Can you imagine? The rations only lasted a two or three days and then we wouldn't have any food," he said. "People were dying from disease, from starvation."