All major int'l organizations support Azerbaijan's stance - Aliyev
04.06.2016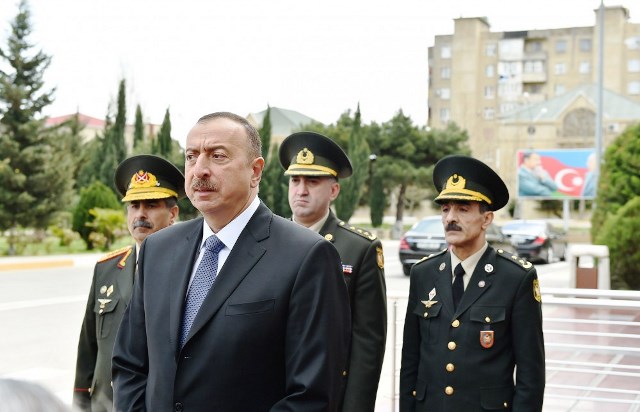 All major international organizations support Azerbaijan's stance, Azerbaijani President, Supreme Commander-in-Chief Ilham Aliyev said during a meeting with the families of the martyred and wounded servicemen on Tuesday.

The UN, OSCE, the Organization of Islamic Cooperation, and the Council of Europe passed resolutions backing Azerbaijan's just stance, the president said. "However, these resolutions have not come to fruition but they are legal basis for the solution of this problem," he added.

"We are defending our own lands, which is a matter of justice. The Azerbaijani army once again put the enemy on its place," according to President Aliyev.

The head of state said that the Azerbaijani army has gained complete advantage along the contact line. "Nonetheless, we have said revealed our willingness to restore the ceasefire, provided that the opposite side should comply with it. We don't want war but we want the problem solved peacefully. It's a difficult process. But know that all major international organizations support Azerbaijan's stance," he stressed.

The president noted that Azerbaijan is far ahead of Armenia in the region from the economic and political point of view.

Despite the fact that the negotiations do not produce results, the Azerbaijani side is ready for this process, said Aliyev.

The president stated that the recent Armenian provocation that was aimed at undermining the negotiation process left several Azerbaijani soldiers dead and wounded. "However, the Azerbaijani army inflicted a crushing blow to the enemy. The enemy is to blame for this," he said.

"Today I met with our wounded soldiers and thanked them on behalf of the Azerbaijani people. As the Supreme Commander-in-Chief and President, I'm proud of them," the president said.

The president also expressed gratitude to the families of the martyred and wounded servicemen for having raised such beautiful, patriotic and brave sons.

"Even though they were wounded, the soldiers say they want return to battlefield as soon as they recover. It shows how brave, patriotic are the Azerbaijani people. These soldiers grew up in the period of independence of Azerbaijan under the flag of sovereign Azerbaijan. They have high sense of national pride and dignity. I have always said that our young people should be patriotic," he concluded.