Azerbaijanis deportation from Western Azerbaijan
12.08.2016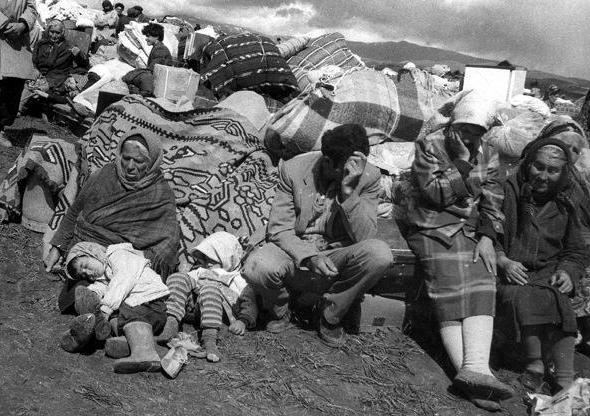 In December 18, 1997 Heydar Aliyev, Azerbaijan Republic President signed special decree of "Azerbaijanis mass deportation from their historical-ethnical lands of Armenia SSR within 1948-1953". Let's trace back stages of Azerbaijanis deportation, eviction and genocide in historical succession.
It's common knowledge that Peter the First, Russian emperor strived for isolating Moslem countries from each others, and simultaneously creating buffer area in South Caucasus between Russia, Iran (North Azerbaijan khanates) and Turkey. In reality Russia's intention to occupy Turkey wasn't secret and the former desired to proclaim Istanbul under Tsargrad name.
And whom were Russians supported by in struggle against Turkey? Of course, their allies in South Caucasus had to be Christian Georgians and Armenians. Right therefore occupation of Georgia and South Caucasus was put by Russia in the forefront. These intentions ranked high in "Testament" of Peter the First. Armenians who "faithfully served" to Turkey planned established at its territory Armenia state having felt the former's weakening. For this purpose they sent representatives with numerous gifts to negotiate with Peter. Following North Azerbaijan's annexation by Russia there commenced mass eviction of Armenians to Azerbaijan lands. The interesting fact is that they had been settled not in desert areas, but directly in mountainous lands inhabited by Azerbaijanis.
Enough data of this are contained in writings after Griboyedov A.S. who is our nation's violent enemy and actively worked over the eviction matter. The information about Armenians' settlement in West Azerbaijan (present Armenia) territories is abundant in "Overview of Russia's Transcaucasian possessions" book (Saint – Petersburg, 1836 (in Russian)), works published by Shopen I. in the middle past century and many other written sources.
Due to 1801 showings, in Iravan province resided 200 thousand people, 180 thousand of whom, otherwise 90 per cent made up Azerbaijanis. As a result of evicting here Armenians and physical annihilation of the indigenous dwellers among 177 thousand numbering population just 72 thousand (41 per cent) had been Azerbaijanis (according to 1832 data); without taking into account natural population increase at least 108 thousand people had been killed at this period. The survived 93 thousand ones, i.e. 52% formed Armenians. In the previous case the latters numbered 20 thousand people (10%). It's seen that only during thirty years almost 110 thousand Moslem Azerbaijanis had been undergoing genocide, physically crushed by Russians and Armenians.
In 1916 Azerbaijanis totalled at the respective territory 374 thousand people otherwise 33 per cent. As to Armenians their numbers augmented owing to newly settled ones till 670 thousand (60%). We shouldn't put all the killed down just to Armenians. Russia aspiring to establish at this territory the forenamed buffer zone is no less guilty than the formers.
We should stress that West Azerbaijan hadn't been consisting only of Iravan province. There was a great deal of other areas which formed its part.
Due to archives data for 1910 (i.e. after massacre in 1905 and 2nd deportation stage) 64 per cent of population of the presently called Armenia Republic made up Azerbaijanis. But as result of pro-armenian policy pursued here by Russians, common armenian nationalistic ideology's formation and dissidence of Azerbaijanis to Shiahs and Sunnites Azerbaijanis had been estranged from political activity, allowed to carry out just religious and economic (farming) practices.
The initial stage of Azerbaijanis' deportation from the present Armenia territory is the late 19th cent. Afterwards within 1905-1907 and 1916-1920 under direct participance and instigation of Russians armed to the teeth Armenians had drived out, partly annihilated multithousand peaceful Moslem residents, burned down their villages for they could never come back here.
And why didn't the foreign society pay heed to such atrocities of Armenians and Russians? In reality this reason was common knowledge: the formers were handy means for countries which craved for ruining gradually Ottoman empire, and when opportunity presented itself did their best to establish own state. "Dashnaksutun", "Gnchak" parties and respective military units highly contributed to this cause.
Following policy of West Azerbaijan areas "deturkification" Armenians had copped to become proteges of Great Powers in South Caucasus already by the late 1st international war. Thus formed background for realizing wild idea of "Great Armenia" establishment.
The total area of initial Armenia state which appeared in historical proscenium after Transcaucasian Seim disbandment in May, 1918 was only 6 thousand square kilometers. Right since that time Armenians have begun war of aggression against Azerbaijan Republic under support and incitement of Bolshevists who had just ascended to power. We presented voluntarily as "share" some territories to Armenia. In May 29, 1918 Fatali khan Khoisky, the first prime-minister of Azerbaijan Republic wrote letter addressed to Mahammad Hasan Hajinsky, Azerbaijan Foreign Minister as below: "We settled with Armenians all disputablle points, they will accept our ultimatum (about giving up their territorial claims – E.M.) and the war will be over. We "ceded" them Iravan. Thus Armenia having been granted by Azerbaijanis with its future capital and later annexed Azerbaijani provinces such as Goycha, Daralayaz, Qaragoyunlu etc. formed in return for Russia military outpost and buffer area. The residents of the annexed territories had been either killed, or drived out off their forefathers' lands.
In summer of 1918 treacherous one-eared Andronik Ozanyan first set out to Nakhchivan for cleaning pseudo-armenian areas from Turks, but having learned the impending arrival of Ottoman troops run away with fear and invaded Zangazur. Here he first demands of the local peaceful inhabitants subjecting Armenia Republic or leaving the province. It becomes clear from inquiries held in Azerbaijan's western districts by Mikhailov, Azerbaijan Extraordinary Commission Member that isolated defenceless population of Zangazur flatly turned down the ultimatum of Andranik after what he commanded mass killing of the residents and led himself the atrocities. Trying to justify his actions Andranik who further migrated to USA wrote in his book (Boston, 1921) as below: "Due to my decree before the massacre leaflets in Armenian about Moslems' removal were dispensed among them. But Moslems failed to obey demands listed in the leaflets". We think unnecessary to comment upon such foolish invention. Firstly because leaflet affair was later fibbed as excuse. Secondly how would Moslem inhabitants read the leaflets in Armenian and obey his demands, if they couldn't write, read correctly even in their native language?!
According to Andranik's order the residents of such villages belonging to Zangazur province like Arikli, Shukur, Malikli, Pulkand, Shaki, Gyzyljyq, Irlik, Pakhlaly, Darabbas, Alili, Kurdlar, Sisian (the latter's present name is Hatsavan, and Garakilsa name was changed into Sisian. This was done for covering any tracks of the villages, Turkic origin), Zabazadur, Hortuyuz, Arafsa and other turkic settlements had been shortly annihilated and villages themselves razed to the ground. At this period just within Zangazur over 120 Azerbaijan villages had been destroyed.
The same fate overtook many settlements of other West Azerbaijan provinces, most residents killed, the survived ones had to run away and save their souls. Marshal Bagramyan writes in his book "My reminiscences" that Mikoyan A.I. being promoted to position of USSR Supreme Council Presidium Chairman also used to battle for Andranik's gang, partake in Turks' eradication and deportation.
Vahram named ringleader of dashnak units, New Bayazid province's native described heinous actions of his "dare-devils" in 1920 as below: "I was killing promiscuously Turks in Basarkechar. Sometimes I didn't spare bullets. The best means against these dogs is gathering everyone who survived in the battle, throwing them a heavy stone so that nobody would remain. I did exactly this way: threw all men, women, children into wells stoning them…".
After proclamation of Soviet power in Armenia in November 29, 1920 Russia took by force Zangazur, Goycha, Daralayaz provinces and placed them under Armenia's authority in December of the same year. Thus 20 thous. square km. more were added to the previous 9 thous. sq. km. to extend Armenia territory till 29 thous square kilometres. In 1929 well-known Nuvadi and other eleven villages were transfered to jurisdiction of Armenia. Thus took place establishment of Armenia state with 29,8 thous. square kilometred area at Azerbaijan territory. As a result common frontier between Azerbaijan and Turkey stopped existing. Having realized their plans Russians declared of the national dissension's ending. Actually just Azerbaijanis believed it, Armenians again conducted secretly their former policy.
During conference of USA, USSR and England leaders since November 28 till December one of 1943 spokesmen for Iranian Armenians and those ones who lived abroad achieved Stalin's reception, requested him to permit foreign Armenians return to Armenia and told it was time to advance territorial claims to Turkey. Stalin believed them and promised to undertake corresponding activities. He had been trying repeatedly to plunge Turkey into the 2nd international war.
After its ending in "Pravda" newspaper dated August 1, 1945 there was published editorial titled as "Our territorial claim to Turkey". The latter had to look for support in the face of USA and European countries. This was confirming Soviet Russia being follower of its tsarist precursor's expansionist policy.
According to Marshal Zhukov's data for 1972 there were conducted measures for exiling Azerbaijan people to Kazakhstan, Middle Asia and Siberia in 1944 on Mikoyan's initiative. Of course, Azerbaijan with its cleaned area was to be separated between Armenia and Georgia. Just owing to Mirjafar Bahyrov's friendship with Beria and the former's managing to influence Stalin this horrible scheme had been averted. Instead Mikoyan and Arutyunov G., Armenia CP Central Committee First Secretary again raised problem of placing Upper Garabagh under Armenia authority in missive dated November, 1945. The concrete plan was projected in this view and a letter containing motions adopted by Stalin and Malenkov sent to Azerbaijan for attaining the local leadership's respective agreement. Bahyrov considered transference of Highland Garabagh to Armenia theoretically possible, provided Shusha would remain under authority of Azerbaijan, territories of Armenia SSR, Georgia SSR and Dagestan ASSR basically populated by Azerbaijan's jurisdiction. Stalin who realized that no good would come of this all deferred "Garabagh problem".
Armenians never resting content with it again by means of Mikoyan began evicting Azerbaijanis from Armenia SSR and thus by Azerbaijanis including Zangazur province be returned to paved the way for settlement here of allegedly "foreign" Armenians. As result "nations' father" Stalin signed in December 23, 1947 decree № 4083 of USSR Ministers Council. According to this resolution 100 thous. numbering Azerbaijan inhabitants were to be resettled within 1948-1953 from Armenia to Azerbaijan's Kur-Araz lowland (strange is the fact that it was categorically forbidden to place the population even at the highland areas of Azerbaijan being more accustomable for it).
The initial expartiants arrived in Kur-Araz region in June, 1948 and were accomodated in State farms of Zhdanov (present Baylagan) district.
The works for Azerbaijanis' respective eviction were headed by Brutenz N.A., Azerbaijan Ministers Council department chief, Armenian by nationality. By the way, his son Karo Brutenz who left for Moscow to study at Social Sciences Academy and graduated it in 1954 declared very rudely to Mustafayev I.D., first secretary of Azerbaijan CPSU Central Committee his unwillingness to return to Baku and remained in Moscow. Afterwards he was promoted to CPSU Local Committee Foreign Links office Head Deputy, actively partook in founding "ASALA" armenian terrorist group in Livan. Later members of this organization arrived in Yerevan and played key role in conducting terror actions in Soviet Union, including Azerbaijan, and other countries.
Further this affair was charged to another Armenian – Sevumyan R.I. As well-known Azerbaijan historian Atakhan Pashayev neatly pointed "wolf was commissioned with guarding sheep".
In general 100 thousand Azerbaijanis within 1948-1953 had been expatriated officially to Kur-Araz region and much more Azerbaijanis evicted unofficially to other districts. Basically they were settled in Gadabay, Gazakh, Tauz, Aghstafa, Shamkir, Safarali (present Khanlar), Dastafur (Dashkasan), Barda, Quba, Aghdam districts of Azerbaijan, as well as Mashtaghy and Azizbayov districts within Baku and they were deprived of fixed "concessions".
Families who desired to settle down in Upper Garabagh had been ousted from there by means of creating insufferable conditions.
The residents of famous Lambali village, former Barany district renamed at Soviet period to Noyemberyan by Armenians were deported in frost November, 1949 in accordance with decree of Karapetyan S., Armenia SSR Ministers Council Chairman under pretext of subtropical plants collective farm establishment at the territory of the settlement. They were to be evicted to Georgian Borchaly province, but the local authorities achieved the expatriants' return. Karapetyan permits them remove to Zod village within Basarkechar district. Simultaneously over 100 families were deported from the latter settlement and placed in Azerbaijan's Khanlar province. Having displayed strong fortitude Lambalians after Stalin's death could come back with great trouble to their primordial homeland and settle down in the respective village's outskirts.
Unofficial deportation had been realized within 1950-90 ths. The last Azerbaijanis, residents of rather well-known Nuvadi settlement (Armenia) were expatriated from their motherland in August 8, 1991.
Investigating deportation stages the below inference proceeds: these developments were headed by single centre and conducted systematically. As result southern frontiers of Russia had been isolated from Turkey and Moslem countries, and Armenians enjoying the formed situation succeeded in establishing from nothing own state, like always trying to pretend "defeated party".
Elmar Maharramov, Candidate of history