Seizing the Opportunity for Lasting Peace Between Armenia and Azerbaijan | Opinion
02.23.2021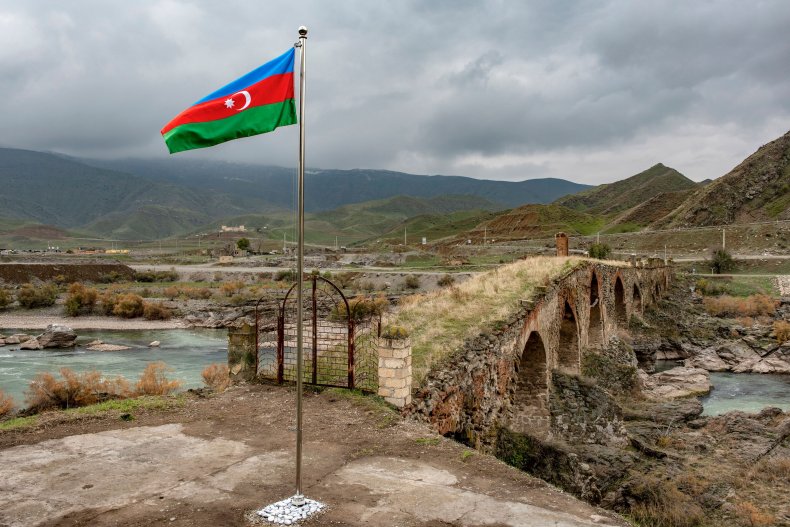 by Elin Suleymanov
The history of international conflicts is regrettably littered with missed opportunities for peace.
Rather than accomplishing its aim of charting a peaceful roadmap for postwar Europe, the February 1945 Yalta Conference paved the way for the Cold War by dividing Germany into four occupation zones administered by U.S., British, French and Soviet forces.
Now, there exists a fresh opportunity to forge a lasting peace and to extinguish a lingering conflict in the South Caucasus region, where processes of normalization and economic integration are underway in the aftermath of last fall's six-week war between Armenia and Azerbaijan.
Armenia's 30-year-long occupation of territories internationally recognized as Azerbaijan's inflicted enormous suffering on a million Azerbaijani refugees and led to wide-scale destruction in the area. It also led to Armenia's international isolation, external dependency and economic and demographic decline.
The end of the war in Nagorno-Karabakh brings some crucial silver linings for Armenia. Thirty years since formally declaring its independence from the Soviet Union, it can finally begin moving towards meaningful sovereignty. The Armenian people have an opportunity to extricate themselves from the emotional and economic burdens of carrying out an occupation, to shed the effects of long conflict and to live alongside their Azerbaijani neighbors in peace.
For the first time in decades, high-ranking Armenian and Azerbaijani officials are discussing the establishment of transportation and communication links as well as other opportunities for regional cooperation. There is an ongoing demarcation process along the international border between Armenia and Azerbaijan, and soon hundreds of thousands of displaced families can return to their homes.
U.S. companies should participate in the reconstruction of Nagorno-Karabakh by joining the efforts to build smart and green cities and communities. The key remaining impediment is the presence of vast numbers of landmines laid by Armenian forces that continue to kill Azerbaijani civilians and military personnel. The U.S. can play an important role in supporting the demining effort for the benefit of both the Armenian and Azerbaijani people.
The U.S., Russia and France, as co-chairs of the OSCE Minsk Group, have a significant opportunity to build on the momentum from last November's ceasefire and promote reconciliation, dialogue and economic prosperity between Armenia and Azerbaijan.
President Joe Biden, during his campaign, reiterated the need for a ceasefire. With a ceasefire now in place, Azerbaijan expects the U.S., given its roles as a Minsk Group co-chair and a permanent member of the U.N. Security Council, to maintain a keen interest in implementing decisions by both of those international organizations and to continue pushing for peace. In doing so, the U.S. would not be taking a side in this conflict. Rather, it would be fulfilling its role as an honest broker and an objective mediator by advancing both sides' adherence to international law.
Despite the trauma of the past—including the 1992 massacre of Azerbaijani civilians in Khojaly, where hundreds lost their lives—Azerbaijan is prepared to look towards the future and to take the difficult steps that are necessary for peace. Azerbaijan has expressed its determination to reintegrate citizens of Armenian origin living in Nagorno-Karabakh into the country's social and economic life.
This commitment extends to culture and religion, as Muslim-majority Azerbaijan is widely recognized as one of the world's champions of diversity and tolerance. The country works tirelessly to preserve and strengthen its multifaith heritage. The government restored Baku's Armenian cathedral, which houses a library of 5,000 Armenian manuscripts, and the head of the Armenian Church was welcomed to visit it in 2010. Desperate attempts to inject a religious narrative into an interstate conflict are simply insulting to Azerbaijan's Christian, Jewish, Muslim and other citizens. Such attempts unfortunately promote division rather than reconciliation.
Azerbaijan has also announced plans to rebuild the Christian and Muslim heritage of Nagorno-Karabakh following the devastation of the recent war and the neglect that the region had experienced under occupation. The Nagorno-Karabakh region of tomorrow promises to be the home of a diverse and peaceful community rather than its conflict-ridden limbo of the past.
After decades of missed opportunities in the Arab-Israeli conflict, the recently signed Abraham Accords between Israel and several Arab states have displayed the path towards a brighter future in the Middle East and North Africa, characterized by burgeoning economic cooperation and warming Muslim-Jewish relations. In fact, Azerbaijan's longstanding strategic ties with Israel set an influential precedent for today's rapprochement between Israel and Muslim-majority countries.
America should now apply the big-picture approach to the South Caucasus. A lasting peace between Armenia and Azerbaijan would allow for the region to realize its full potential and for Armenia to integrate with its neighbors. This opportunity must not be missed.
Elin Suleymanov is Azerbaijan's ambassador to the United States.