Armenian missile strike hit Azerbaijan's Barda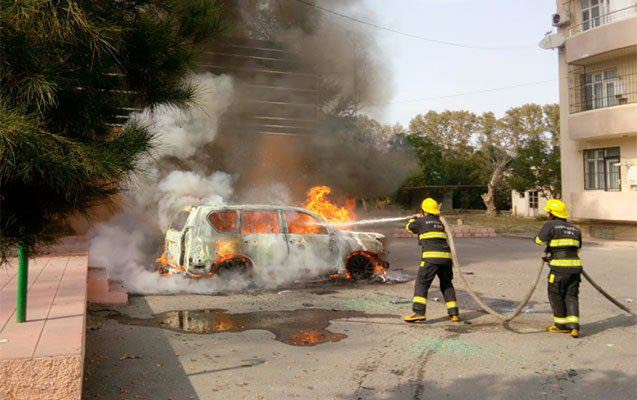 Armenian forces on October 28 hit the city centre of Azerbaijan's Barda with missiles, setting multiple shops and vehicles on fire. At least 21 civilians were killed and more than 40 injured in the attack.
The Barda missile attacks was a series of three air attacks on the city of Barda, as well as the villages of Ayrice and Garayusifli in the same district, in Azerbaijan during the 2020 Nagorno-Karabakh war. The attacks involved BM-30 Smerch missiles with cluster warheads and resulted in 27 civilian deaths.
Azerbaijan accused Armenia of the attacks and stated that cluster munitions had been used against civilians. Human Rights Watch and Amnesty International verified the use of cluster munition by Armenia, adding that the "firing of cluster munitions into civilian areas is cruel and reckless, and causes untold death, injury and misery."
The first attack took place on 27 October, in Garayusifli, killing 5 civilians and injuring 15 others. It involved cluster missiles from a BM-30 Smerch multiple rocket launcher. Human Rights Watch observed significant damage to 12 houses in the area.
The second attack on 28 October occurred at around 13:00 local time. It involved cluster missiles that hit densely populated urban areas with trade facilities, which Amnesty International and Human Rights Watch confirmed. As a result, 21 civilians were killed and over 70 were wounded. Among the dead, was a 39-year-old Red Crescent volunteer, while two other volunteers were injured. Civil infrastructure facilities and vehicles were extensively damaged, including, according to Human Rights Watch, Barda Treatment and Diagnostic Center, State Migration Service office. According to Azerbaijan, the second attack also involved a BM-30 Smerch with a cluster warhead equipped with fragmentation warheads of 72–144 pieces in total. Azerbaijan accused Armenia of the attacks, which it denied any responsibility, while Amnesty International and Human Rights Watch also stated that it was Armenia who had carried out the attack. In the meanwhile, the unrecognized Republic of Artsakh admitted responsibility for the second attack but stated that it had targeted military facilities. New York Times reporting team was caught in an Armenian rocket attack driving along the main street of Barda.
The third attack on 7 November occurred in the village of Əyricə. According to a Human Rights Watch report, the Armenian forces fired a rocket that struck an agricultural field near the village and killed a 16-year-old boy while he playing with other children. Azerbaijani authorities stated that they had identified the munition as a 9M528 Smerch rocket, which carries a warhead that produces blast and fragmentation effect. HRW reported that the researchers did not observe any military objectives in the area.