Armenians came up with "genocide" to conceal their own crimes
03.31.2015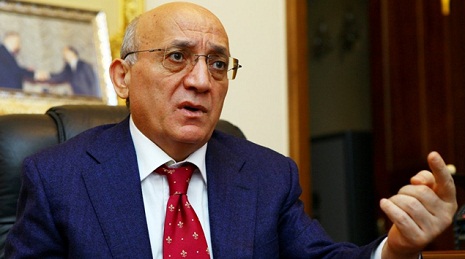 The crimes committed by Armenians against Azerbaijanis in 1918, are genocide, and if such acts of Armenians isn't prevented, they can repeat in other places, said Mubariz Gurbanli, the Chairman of the Azerbaijani State Committee for Work with Religious Organisations.

He made the remarks March 30 at an event marking the anniversary of the March 31 – Day of the Genocide of Azerbaijanis. The event was organized by the Caucasus Muslims Office.

The genocide was committed on March 31, 1918, when hundreds of towns and villages of Azerbaijan were destroyed, as well as 150 Azerbaijani villages in Karabakh were turned into ruins, an unprecedented bloodshed in Shusha was committed. More than 700,000 Azerbaijanis, including 30,000 persons in Baku and in surrounding villages were brutally murdered, mosques and schools were burned down.

Gurbanli said that murders were committed in Baku on the eve of Novruz holiday, but as there is a 13-day difference between the old and the new calendars, the Day of Genocide of Azerbaijanis is marked on March 31.

He added that at the time, thousands of victims of the March genocide were buried at the present day Alley of Martyrs in Baku.

"The people have not forgotten this," he said. "In 1990, the January 20, martyrs were buried at this site as well, after which this place came to be called the Alley of Martyrs."

Gurbanli further noted that Armenians have always hid behind strong patrons.

"In order to conceal their crimes, they [Armenians] came up with their so-called genocide and began to use it as a means of propaganda. They committed big crimes in Iran, Turkey and the Caucasus," he added.

Gurbanli, recalling that this year marks the 70th anniversary of the victory over fascism, noted that Russia is trying to make heroes of some Armenians, who collaborated with fascist leadership at the time.

"This is not normal, and it is regrettable that Russia is preparing to hold events to commemorate these persons," he added.

Gurbanli also said the memory of the victims of the March 31 genocide should always be honored, and the information about these events must be brought to the younger generation.